Hey everyone and welcome to May! I am only 5 weeks away from ending school (bless) and the heat has hit my area full frontal. But, life is still good (despite all the sweat and sunscreen I have been needing) and I am looking forward to the month. And remember how I mentioned allergies last month? Yeah those have full on hit me as well.... yay!
The Hate U Give by Angie Thomas
Alex, Approximately by Jenn Bennett
Girl Out of Water by Laura Silvermen
Walkabout by James Vance Marshall
Alex & Eliza by Melissa de la Cruz
Haaaaah so I kind of had a crappy reading month? I had to read Walkabout for school so I really only read four books this month. I really enjoyed those four books though so at least there is that! I was also on Spring Break in April and didn't end up reading much during the week so that was kind of a waste of good reading time... Oops!
There were actually less posts this month compared to the others, which makes sense because I kinda stopped reading a little this month, which is a direct correlation to my blogging motivation. Plus, they're all reviews of books that I pretty much enjoyed. There were fewer posts this month but it was nice to kind of slow it down seeing as though I have been spitting out a decent amount of posts each month.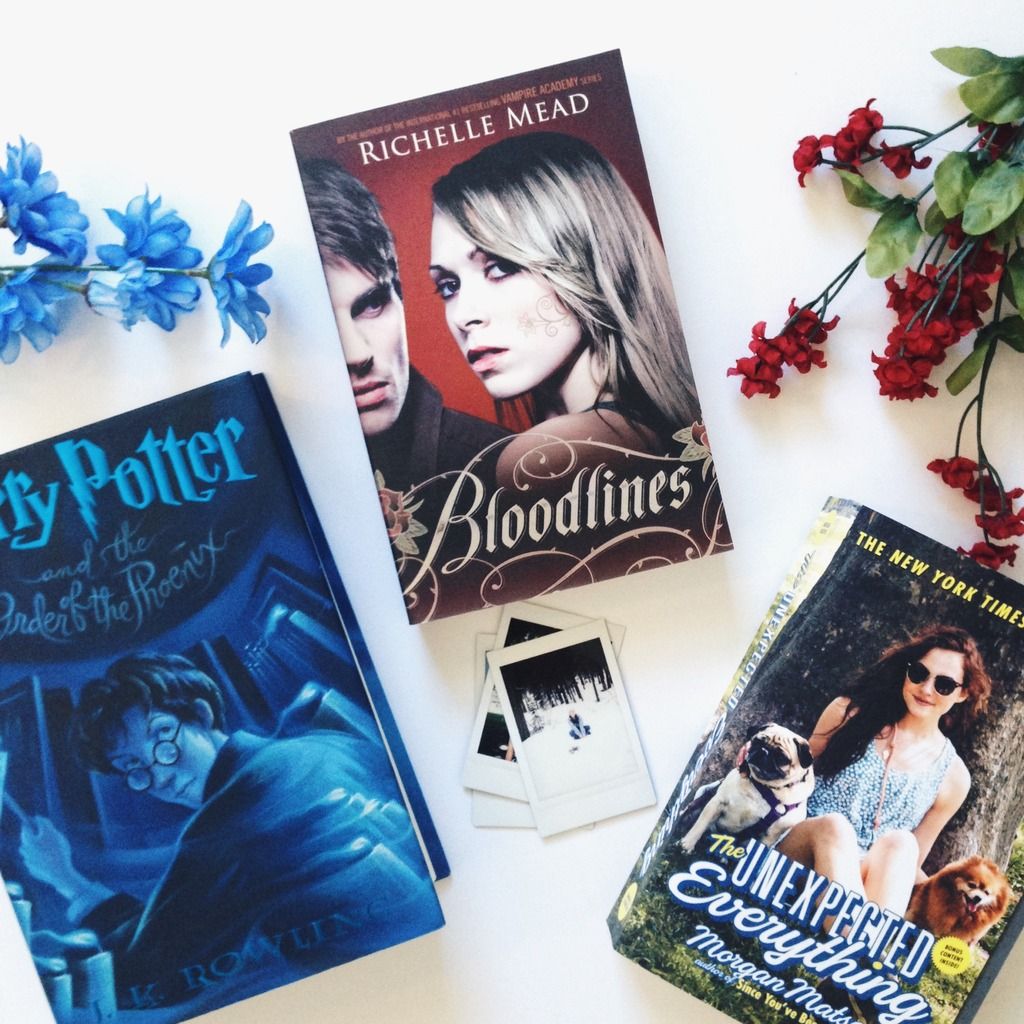 Received:
How To Make A Wish
Girl Out of Water
Bought:
Bloodlines
Harry Potter and the Order of the Phoenix
The Unexpected Everything
The Love Interest by Cale Dietrich
The Crown's Fate by Evelyn Skye
Queer, There, and Everywhere by Sarah Prager
Jaeth's Eye by KS Villoso
The Picture of Dorian Gray by Oscar Wilde
Always and Forever, Lara Jean by Jenny Han
Wayfarer by Alexandra Bracken
I have some pretty exciting reads in this month's TBR! (Peep Always and Forever, Lara Jean) I also have books that were on last month's TBR that I really need to get read so they're on here...again! Let's hope next month they can finally be included in the "read" list.
New Netflix Shows
This month, there will be three new Netflix shows (Anne with an E, Dear White People, and Girlboss) that I am planning to watch and I am super excited for them. I started Dear White People and am planning to binge watch Anne with an E with my mom. (We used to watch the Anne of Green Gables movies (the ones with Meg Follows) together when I was younger.) I'm super excited for Anne with an E because the Anne of Green Gables story was a big part of my childhood. I love the story and am super excited for the Netflix show. Hopefully it's as good as I am expecting it to be.
Skam Is Back
I feel like it's been awhile since I've talked about Skam. If you don't know, Skam is a web series from Norway and one of my favorite things. (I talked more about it
here
is a web series from Norway and one of my favorite things. (I talked more about it here.) Anyways, after like, a 4-month hiatus, it's back and I am having the time of my life, stalking the website every day. It's bad, I am obsessed but this season is so good and I am really looking forward to where it will be going. If you're looking for a show that you can finish quickly, I would definitely recommend Skam.
The Sun is Back! My Tan is Returning!
If you don't know, I live in Northern California. I love the weather here. I'm someone who isn't the biggest fan of heat and sun so the only time it get's really hot is in the summer and some of the spring and fall. Well, it's just become super super hot here and I am melting in this heat it is ridiculous I actually really dislike it. But, my tan is coming back which is nice. I had some weird tan lines from when I played sports in the fall season so I am looking forward to evening those out. Kind of weird to talk about but I just thought I should mention it because it has currently become a nagging event in my life.
I make monthly playlists! If you would like to check out what songs will be with me for the next month, definitely look through my playlist below. Hope you enjoy!