Hello everyone and welcome to today's super exciting post! I have the wonderful opportunity to be apart of the A Crown of Wishes blog tour. I read The Star Touched Queen last year and loved it, so I was super excited to have the chance to read A Crown of Wishes and be in the blog tour. I got a lot for you guys today. First, we have an interview with Roshani, followed by an excerpt from A Crown of Wishes' audiobook, and then we have my review of the book. It's a lot but I hope you enjoy!
A Crown of Wishes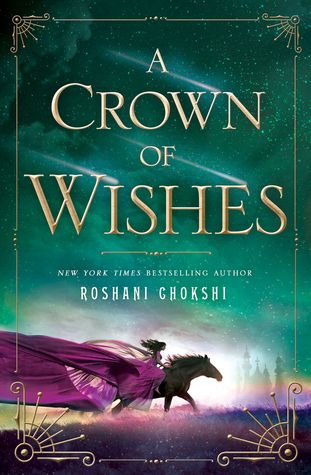 Author: Roshani Chokshi
Publisher: St. Martin's Griffin
Release Date: March 28th 2017
Format: eARC
Rating:
|
Amazon
|
Barnes and Noble
|
Book Depository
|
Gauri, the princess of Bharata, has been taken as a prisoner of war by her kingdom's enemies. Faced with a future of exile and scorn, Gauri has nothing left to lose. Hope unexpectedly comes in the form of Vikram, the cunning prince of a neighboring land and her sworn enemy kingdom. Unsatisfied with becoming a mere puppet king, Vikram offers Gauri a chance to win back her kingdom in exchange for her battle prowess. Together, they'll have to set aside their differences and team up to win the Tournament of Wishes—a competition held in a mythical city where the Lord of Wealth promises a wish to the victor. Reaching the tournament is just the beginning. Once they arrive, danger takes on new shapes: poisonous courtesans and mischievous story birds, a feast of fears and twisted fairy revels. Every which way they turn new trials will test their wit and strength. But what Gauri and Vikram will soon discover is that there's nothing more dangerous than what they most desire.
Interview with Roshani Chokshi
1. This is your second published book, congrats! Did you come across any difficulties with writing any of the characters in A Crown of Wishes?
Hahahahahahaha (yes). I felt like I was drowning every other day because I loved Vikram and Gauri so much and felt like I wasn't giving them equal attention when I tried writing it all in 1st or 3rd person, which is how the dual narrative came to be. Honestly, ACOW was the first time I ever cried during writing…because I felt so emotionally affected by what they were doing. They really came alive to me, so once I let them dictate the story, it was easier to write. Neither of them liked outlines because they're both curmudgeony and contrary. Rude.
2. What is your favorite aspect of getting to tell a story in a world that you made up?
The romaaaaaance….I love that moment when the world begins to tilt all because you suddenly noticed how something ordinary became extraordinary. The act of love really is---and please excuse the cliché---a fall. You've relinquished control. It's scary. And I believe it brings out the rawness in a character and makes them come alive when you feel their grief and trepidation and wonder.