The Chasm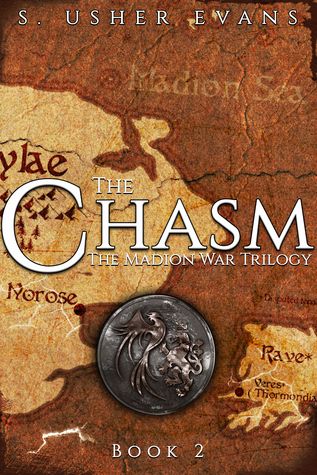 Author: S. Usher Evans
Publisher: Sun's Golden Ray Publishing
Release Date: July 12th 2016
Format: eARC
They survived The Island, but can they cross The Chasm? Four months after Prince Galian was discovered alive on a remote island, he's adjusting slowly to life at the hospital under the Kylaen media's glare. His promises to Theo remain unfulfilled as fear of his father keeps him from taking concrete action. And the more he learns about the machinations in Kylae, the less sure he is that it's possible to make a difference. Across the great Madion Sea, Major Theo Kallistrate struggles to navigate the tricky political waters of Rave's presidential staff. To make positive change for her people, she must remain relevant and interesting to the Raven media and to the president. When he asks her to deliver a speech on her supposed two-month imprisonment at Mael, she's not sure she can stomach the lies. The Chasm is S. Usher Evans' breathtaking, fast-paced follow-up to The Island, which readers say is "not to be missed."
I got this book as an eARC for review from the publisher and none of my thoughts are affected by this.
I kinda procrastinated on reading this book, whoops on me because it was such a quick, addicting and great book. I *basically* read it in one sitting. I don't know, all I know is that I started it at 11:30 pm, read it until 2:30 am, went to sleep, woke up, and then spent another hour finishing it. Yeah, it was thaaaaat good.
It has been awhile since I read The Island but after a few chapters, I was able to faintly remember the events in the past book and got back into the world and characters. That was one of the great things about The Chasm, on how easy it was to slip back into everything. And I was excited to read this book because I was really looking forward to reading more about Galian and Theo after events in The Chasm. The ending of The Island definitely left some questions for me and I was very happy to get those questions answered in this book.
Another thing I particularly liked about this book was all the new places and characters we get to see. In The Island, we mostly spend most of it with Theo and Galian on the island, but in The Chasm, we get to meet some new characters and see more of the world this series takes place in. It is a pretty fictional world so it was really nice to the other places in the world because they do sound very interesting places for this story to take place!
I think S is doing a really fabulous job with the story line in this book. It was a fabulous second book because it wasn't boring, tied up some loose ends from the first book, and opens some new doors for the next book. Guys, I am really excited to see more about what S will do with this series because it's going on a great path so far.
The ending was also fabulous. Again, S left us with a super heartbreaking ending but also with a bit of information on what might happen in the next book, which I looove because I have to wait so damn long for the next book so its great to know even a little about what may happen next. I am super excited for the next book though. A bit sad, knowing it is the last book and an end to this fabulous series but it's turning out to be a great one so far.