The Star Touched Queen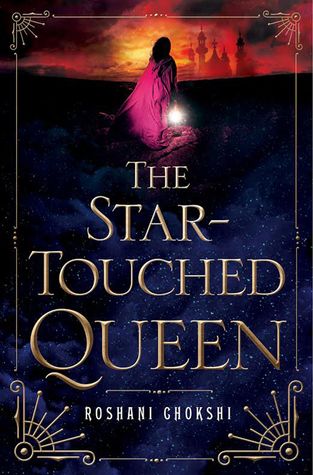 Author: Roshani Chokshi
Pages: 352 
Publisher: St. Martin's Griffin
Release Date: April 26th 2016
Fate and fortune. Power and passion. What does it take to be the queen of a kingdom when you're only seventeen? Maya is cursed. With a horoscope that promises a marriage of Death and Destruction, she has earned only the scorn and fear of her father's kingdom. Content to follow more scholarly pursuits, her whole world is torn apart when her father, the Raja, arranges a wedding of political convenience to quell outside rebellions. Soon Maya becomes the queen of Akaran and wife of Amar. Neither roles are what she expected: As Akaran's queen, she finds her voice and power. As Amar's wife, she finds something else entirely: Compassion. Protection. Desire... But Akaran has its own secrets -- thousands of locked doors, gardens of glass, and a tree that bears memories instead of fruit. Soon, Maya suspects her life is in danger. Yet who, besides her husband, can she trust? With the fate of the human and Otherworldly realms hanging in the balance, Maya must unravel an ancient mystery that spans reincarnated lives to save those she loves the most. . .including herself. A lush and vivid story that is steeped in Indian folklore and mythology. The Star-Touched Queen is a novel that no reader will soon forget. 
---
I received an ARC of this book from the publisher in exchange for an honest review. My thoughts are not altered by that.
I knew The Star Touched Queen was going to be an interesting book from when I read the synopsis. There is just so much from the synopsis that leaves you asking questions about this book and wanting to find out more about it. More about Maya's curse, more about Akaran, and Maya's life in general. The Star Touched Queen delivered such a great story. It had a really interesting plot and a world that I would definitely not mind having a spin off take place in. (Update: Turns out Roshani will be having a spin off of The Star Touched Queen. Whoo!) Roshani had really great writing and I really enjoyed the characters she wrote about. If you're looking for a really suspenseful and mysterious novel with based on a really interesting Indian folktale, I would definitely hand you The Star Touched Queen.
So, you can obviously tell I loved this book. One of the reasons was because of how great and interesting the characters were. From the beginning, we already know Maya is cursed with a horrible horoscope, which is taken really seriously by the people in Maya's life. She really grows within this book, which is one of the highlights. She gets to know herself more and also gets to experience what it is like to not live in her palace walls. I really love how she doesn't take crap from anyone. All her life people have been putting her down because of her horoscope and that leads to her development of relying on herself to get through tough situations. She is so independent and I really love that about her. There are so many other characters introduced in this book and they were all so interesting and all I loved how different from each other they were. No character was every similar to the next one. Interesting characters for an interesting book, am I right? I also really loved reading about how they impacted the plot and Maya's life.
Now, here is my favorite part about this book. The plot. Going into this book, I didn't know much on what was going to happen. I only had so many questions that needed to be answered. As the book progresses, it get's more and more mysterious. That really added more suspense and made the book really hard to put down. That's really all I could say. Some books I could write paragraphs on how good it was but with Star Touched, there isn't much to say because it's very easy to describe. Basically, the more pages you read in, the more questions you have and the more the suspense will build up.
I gave this book 5 stars because I fully enjoyed it. It had awesome characters, a great world, and a really suspenseful plot.