Book Buddies is a discussion-style review that takes place with
Lauren @ Bookmark Lit
. (Learn more and see past reviews
here
) We both read the book and then have a private discussion about it. We post our discussion as a review on the last Wednesday of each month. You'll be able to see our similar/different opinions on the overall book, characters, writing style, etc. – just like a regular review. The first half our discussion will take place right here, and the second half will be on 
Lauren's
blog! (Link at the bottom)
---
Ruby Red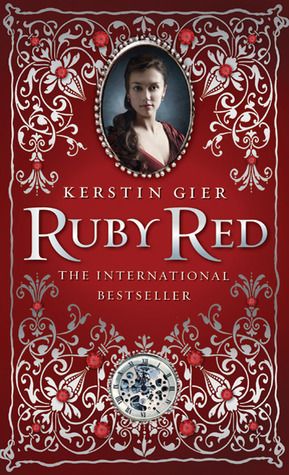 Author: Kerstin Gier
Pages: 324
Publisher: Henry Holt
Release Date: May 10th 2011
Gwyneth Shepherd's sophisticated, beautiful cousin Charlotte has been prepared her entire life for traveling through time. But unexpectedly, it is Gwyneth, who in the middle of class takes a sudden spin to a different era! Gwyneth must now unearth the mystery of why her mother would lie about her birth date to ward off suspicion about her ability, brush up on her history, and work with Gideon--the time traveler from a similarly gifted family that passes the gene through its male line, and whose presence becomes, in time, less insufferable and more essential. Together, Gwyneth and Gideon journey through time to discover who, in the 18th century and in contemporary London, they can trust. 
---
If you would like to read the other half of the discussion click here to go to Lauren's blog!
(There are some spoilers in this discussion so be cautious!)
1. This was definitely an interesting start to the trilogy! I've heard people mention that the world building dragged on for too long and could have been shorter. Do you think the author took enough time to really get us used to the world and introduced to it or do you think it dragged on for too long? (Or do you have a totally different opinion?)
L:
I know what they mean. As I was reading, I kept thinking that not much was happening even though I was getting farther and farther into the book. I was about 80% done with it this morning and she had just gotten back from her first time travel with Gideon. It made me wonder what the heck I was reading for the entire beginning of the book! It was more of a hindsight sort of thing though - I was always interested in the story and never felt like nothing was happening as I was reading. I've read 2 of Gier's other books in the Silver trilogy and realized they're the same way. I think it's her writing style that keeps you engaged even though not much is happening. I like being introduced to the world and learning about it, so I'm always okay with this! I'd rather have more information than not enough information. Overall, it felt kind of anticlimactic though.
K:
 I agree with you when you say that it kept me engaged even though not much was happening. I'm surprised I didn't get super bored reading this book really, not much had happened. That's a pretty interesting writing style because the thing that kept me reading was how interesting the time travel concept was and how I wanted to read more about the world that Gwen is introduced to. For me, it didn't feel anticlimactic because it wasn't even getting fast-paced until the near end of the book. There were no moments to get anticlimactic if I shall say. I am hoping more stuff happens in the next book though because three books where 80% of the book is world building is not going to work out...
2. There were many characters introduced to us in this book, do you have any thoughts or theories on any of them? Did you have any particular favorites or anyone you really disliked?
L:
 Ugh Glenda was the absolute WORST. I wanted to punch her every time she opened her mouth, especially once they realized that Gwen was the one who could time travel instead of Charlotte. I'm curious about the rest of the characters that work there too. Her mom was adamant that she shouldn't trust anyone, so I definitely expected there would be a betrayal of some kind. I loved her interactions with Gideon at the beginning; I could just FEEL a hate-to-love romance brewing. I am so down for that 100% of the time. I was really expecting to see some more intrigue with some of the characters but I felt like the twisty parts towards the end didn't involve the people I suspected. One random issue I had was keeping people with similar names straight in my head - two boys with G names and three girls with C names. Gah!
K:
 YES, I have to agree with you on the Glenda thing. Ugh, she was just so immature I wanted to tape her mouth shut at one point because she was always yapping away at Charlotte and Gwen. Even before we found out Gwen had the gene, she was still super annoying. I am excited to see more of the other characters though. Gwen's mom is definitely going to be an interesting one seeing as though she has had a very mysterious past and I want to know everything about it because I feel like there is more to everything she is telling us. More to why she helped Lucy and Paul, more to why everyone thought Charlotte had the gene and not Gwen, and maybe there is more behind her husband's death? Maybe not but who knows? I loved Gwen and Gideon oh my lord. They definitely started off on the wrong foot but I am really looking forward to reading about them, especially with that ending! Haha, I totally understand what it's like to get confused with the names! So many names similar to each other, even I got a little confused.