Book Buddies is a discussion-style review that takes place with
Lauren @ Bookmark Lit
. (Learn more and see past reviews
here
) We both read the book and then have a private discussion about it. We post our discussion as a review on the last Wednesday of each month. You'll be able to see our similar/different opinions on the overall book, characters, writing style, etc. – just like a regular review. The first half our discussion will take place right here, and the second half will be on
Lauren's
blog! (Link at the bottom)
---
The Program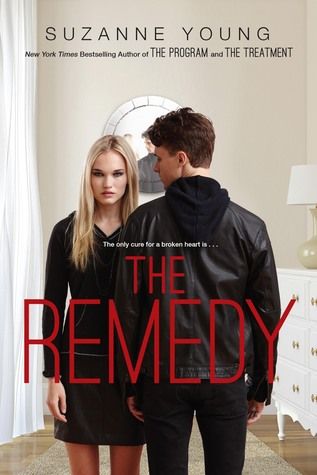 Author: Suzanne Young
Pages: 320
Publisher: Simon Pulse
Release Date: April 21st 2015
In a world before The Program… Quinlan McKee is a closer. Since the age of seven, Quinn has held the responsibility of providing closure to grieving families with a special skill—she can "become" anyone. Recommended by grief counselors, Quinn is hired by families to take on the short-term role of a deceased loved one between the ages of fifteen and twenty. She's not an exact copy, of course, but she wears their clothes and changes her hair, studies them through pictures and videos, and soon, Quinn can act like them, smell like them, and be them for all intents and purposes. But to do her job successfully, she can't get attached. Now seventeen, Quinn is deft at recreating herself, sometimes confusing her own past with those of the people she's portrayed. When she's given her longest assignment, playing the role of Catalina Barnes, Quinn begins to bond with the deceased girl's boyfriend. But that's only the beginning of the complications, especially when Quinn finds out the truth about Catalina's death. And the epidemic it could start. 
---
To read the other half of our discussion, check out Lauren's post!
(There are some spoilers in this discussion so be cautious!)
1. Do you consider this book to have a love triangle?
L:
I'm honestly not sure. I would say that people who dislike love triangles MAY want to stay away from it, but I feel like it's a very interesting case. Isaac is obviously Catalina's boyfriend when she dies and Quinn takes on that role way more than she should. But I agree with what Quinn says at some points - she loved being with Isaac because she really felt like a normal girl with a loving boyfriend. She got swept up into a relationship with him but it was obviously more because of the role she was playing. Her feelings got mixed up because she started to confuse who she was versus who she was playing. I really loved Deacon (for the majority of the book!) and kept feeling like it was inevitable for the two of them to be together. They weren't really dating at any point during the actual story though, so maybe it's not really a love triangle in the technical sense?! I don't knoooow. All I know is that it added a really interesting element to the story and the struggles that Closers have to deal with during their assignments.
K:
Yes! Totally agree with you here. Deacon and Quinn were kind of like those friends who deny their interest in each other but everyone knows other wise. They both really wanted to date each other and you can see and hear the concern and jealousy Deacon gets when he find out about Isaac. Quinn liked Deacon, Deacon liked Quinn yet they wouldn't date, it was all a typical thing. The fact that Quinn got attached to Isaac's love for Catalina through was super interesting because of the fact that it was indeed attachment to the feeling of being loved, rather than Isaac himself. I kind of consider this book to have like, a unclear love triangle if I must say? Both Deacon and Isaac were attached to Quinn but Isaac loved the idea of Catalina rather than Quinn herself.