Welcome to my tour stop for the Love, Lucy blog tour! I hope you enjoy your time here. Make sure to enter the giveaway at the bottom of this post!
---
Love, Lucy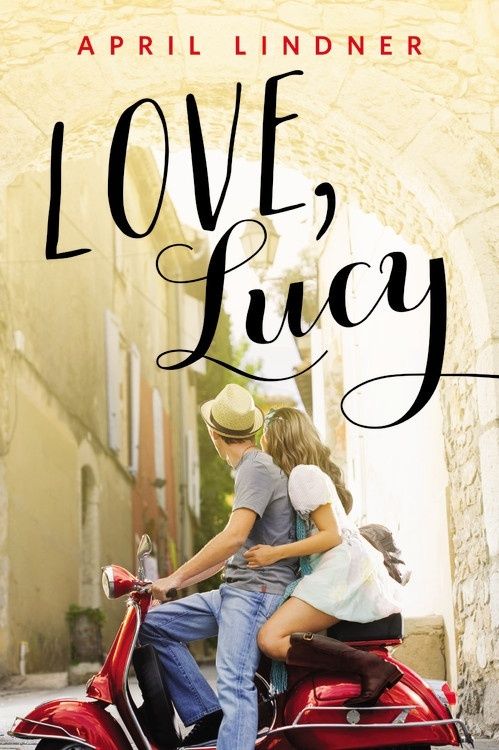 Author: April Lindner
Pages: 304
Published by: Poppy
Published on: January 27th 2015
While backpacking through Florence, Italy, during the summer before she heads off to college, Lucy Sommersworth finds herself falling in love with the culture, the architecture, the food...and Jesse Palladino, a handsome street musician. After a whirlwind romance, Lucy returns home, determined to move on from her "vacation flirtation." But just because summer is over doesn't mean Lucy and Jesse are over, too. In this coming-of-age romance, April Lindner perfectly captures the highs and lows of a summer love that might just be meant to last beyond the season.
---
I got this book from NetGalley for this blog tour in exchange for an honest review. None of my opinions are altered by this.
In the synopsis this book definitely was a romance. After reading the book, it was kind of like a "hurry up and decide" romance. The main character was super confused and you were internally frustrated of how indecisive the main character was. I have nothing against those kinds of romances; In fact, Lindner did a great job. I finished this book within a day because I was on the road for about 7 hours (Currently writing this review in the car!). The 300 pages it was was a good amount for this book. It didn't feel like the story was being dragged on for too long and didn't feel like the ending was just too incomplete.
The romance in this book was cute. Jesse and Lucy are so good for each other and so cute of a couple. You know how I know that? If I ever saw them making out in public I would be muttering "Couples," and rolling my eyes. It's just not the PDA, the way they act around each other. They both encourage each other and are able to be comfortable with each other. Ugh, so cute! The way they meet and how they start liking each other is just cuteeeee.
An aspect that really brought this book nicely together was the writing style. A lot of the books I read are in first person (I picked up the apple) but I liked the third person going on in this book (Kaitlin picked up the apple). It's funny because sometimes I get some trouble when reading in third person because, well third person, in my opinion, is kind of a hard writing perspective to write in. Lindner did a very good job with that and reading in third person was very smooth for me in this book.
I gave this book 4 stars because I did have some issues with some characters in this book but other than that loved it! If you like the lovey contemporaries this is for you!
Favorite quotes:
Lucy thought for a moment, "I hate being hated," she said.
"Wear it like a badge of pride," Matteo said. "It means you've got something she wants."
"When she wants something she knows how to work for it. I'm starting to think she could do anything, if she sets her mind to it." 
"You have to stand back and let them [love]."